A new dashboard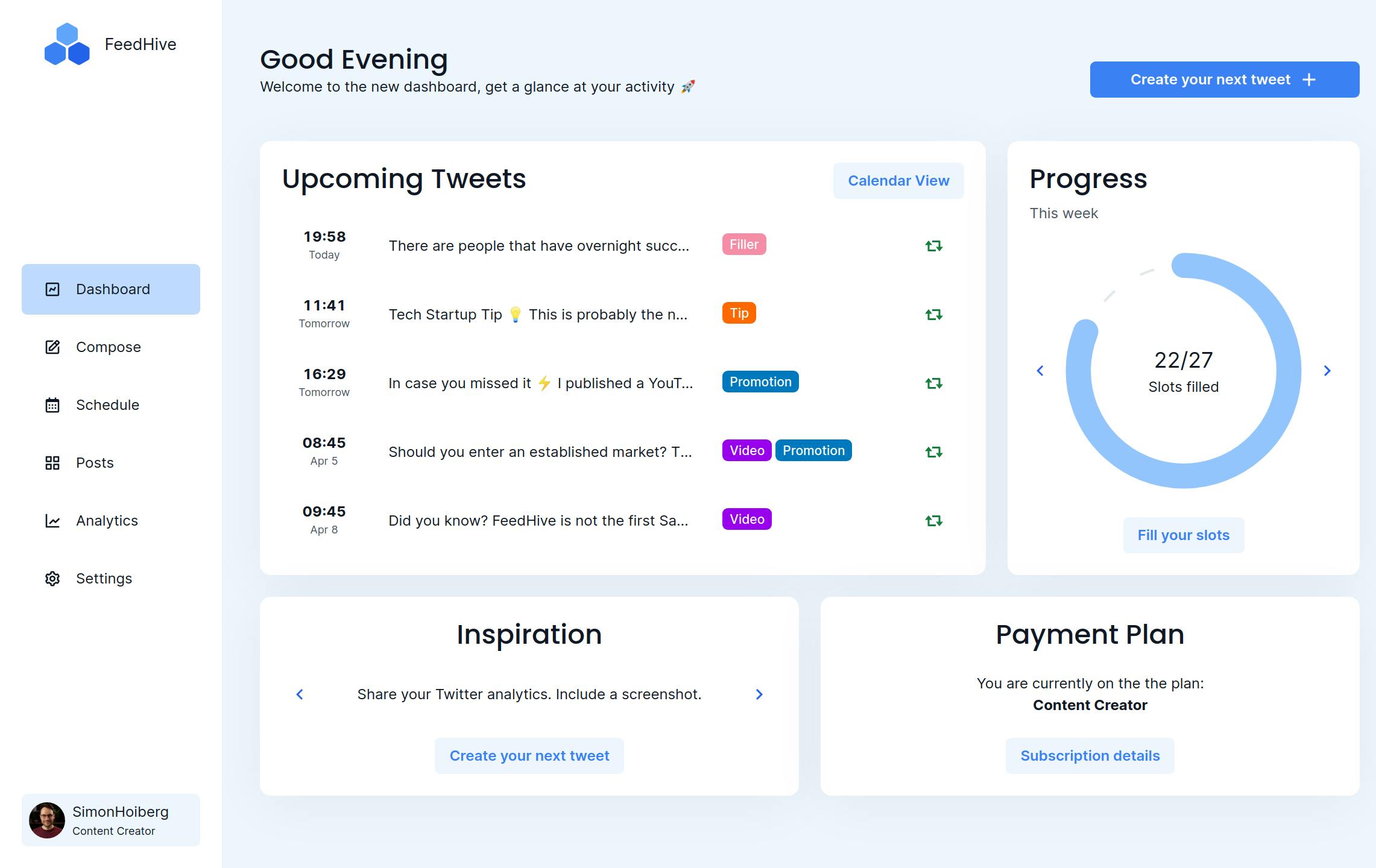 The first page you will be presented with when you log into FeedHive is the new dashboard.
This will give you an immediate overview of your scheduling.
You will see the 5 next upcoming tweets including a quick shortcut directly to the calendar.
You will get a quick overview of your current progress - if you're using the posting plan (earlier called tweet slots), you will see how many of them you have filled here.
You also get a cool new inspiration feature!
This one will give you some quick ideas on what to tweet. If you click the "Create your next tweet" button, you'll be taken to the compose page, and a small "boilerplate" will be automatically added.
A new calendar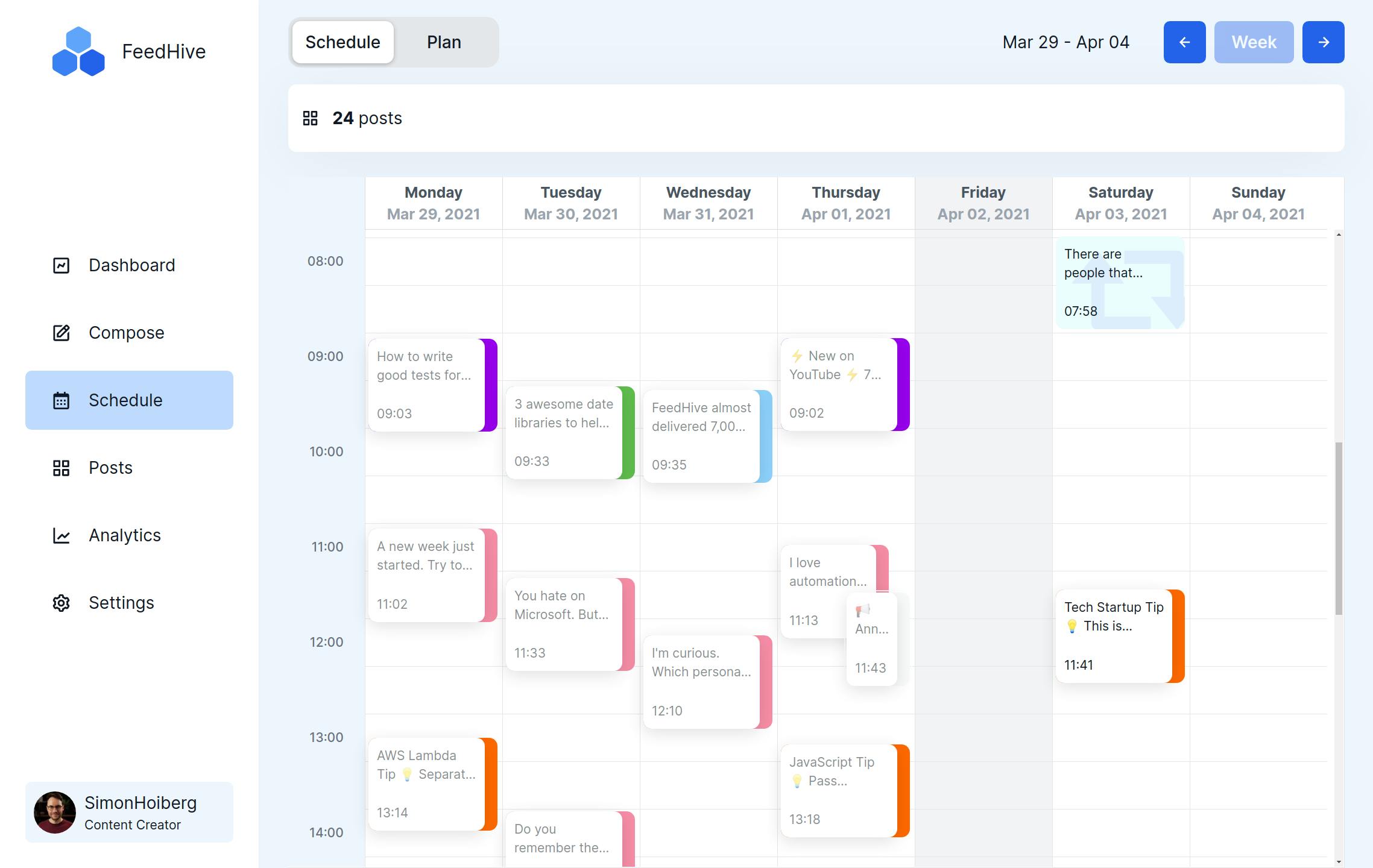 We gave the calendar a nice brushup!
We didn't add a lot of new functionality to the calendar (yet!), but we have added a lot of improvements in regards to UX, design, and overall look and feel.
No doubt, it's a much more satisfying experience to use the calendar now!
Compose tweets with preview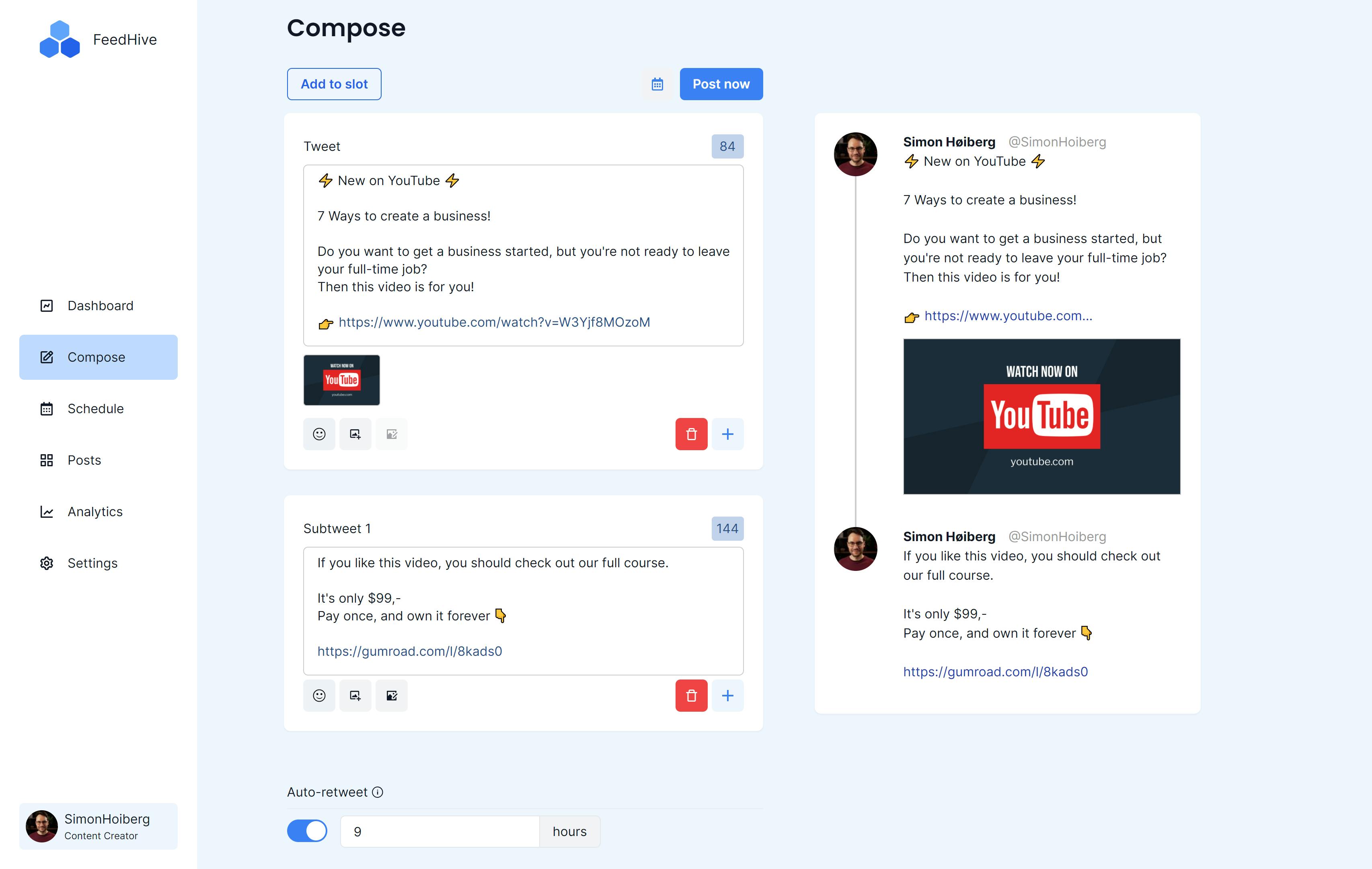 We have made a lot of improvements to the compose page and the editor.
The most important one here is the new preview section.
Now, you can see a preview of your tweet as you type along.
This makes it way easier to draft and experiment in order to give the perfect touch to your tweet.
Analytics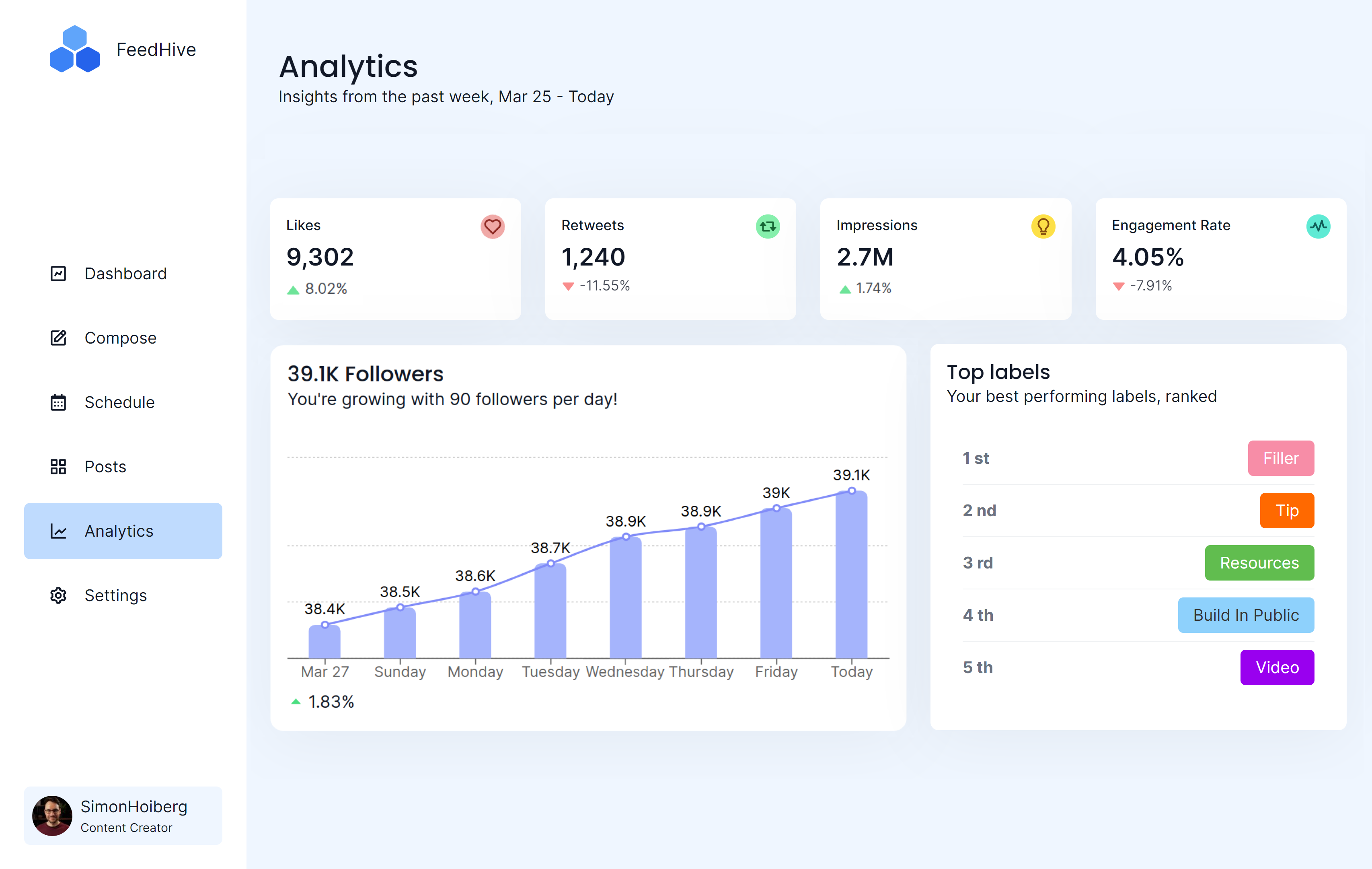 Yes! That's right.
This is something that our users have been asking for. A lot!
And now it's here - an analytics page that enables you to measure and analyze how you're tracking!
Understanding how you're tracking on Social Media helps you increase the impact of your content, and grow faster. With this new analytics page, actionable metrics are always only a few clicks away!
We are going to add a lot of more awesome analytics widgets to this page, so stay tuned for more 🚀
Publish and share FeedHive posts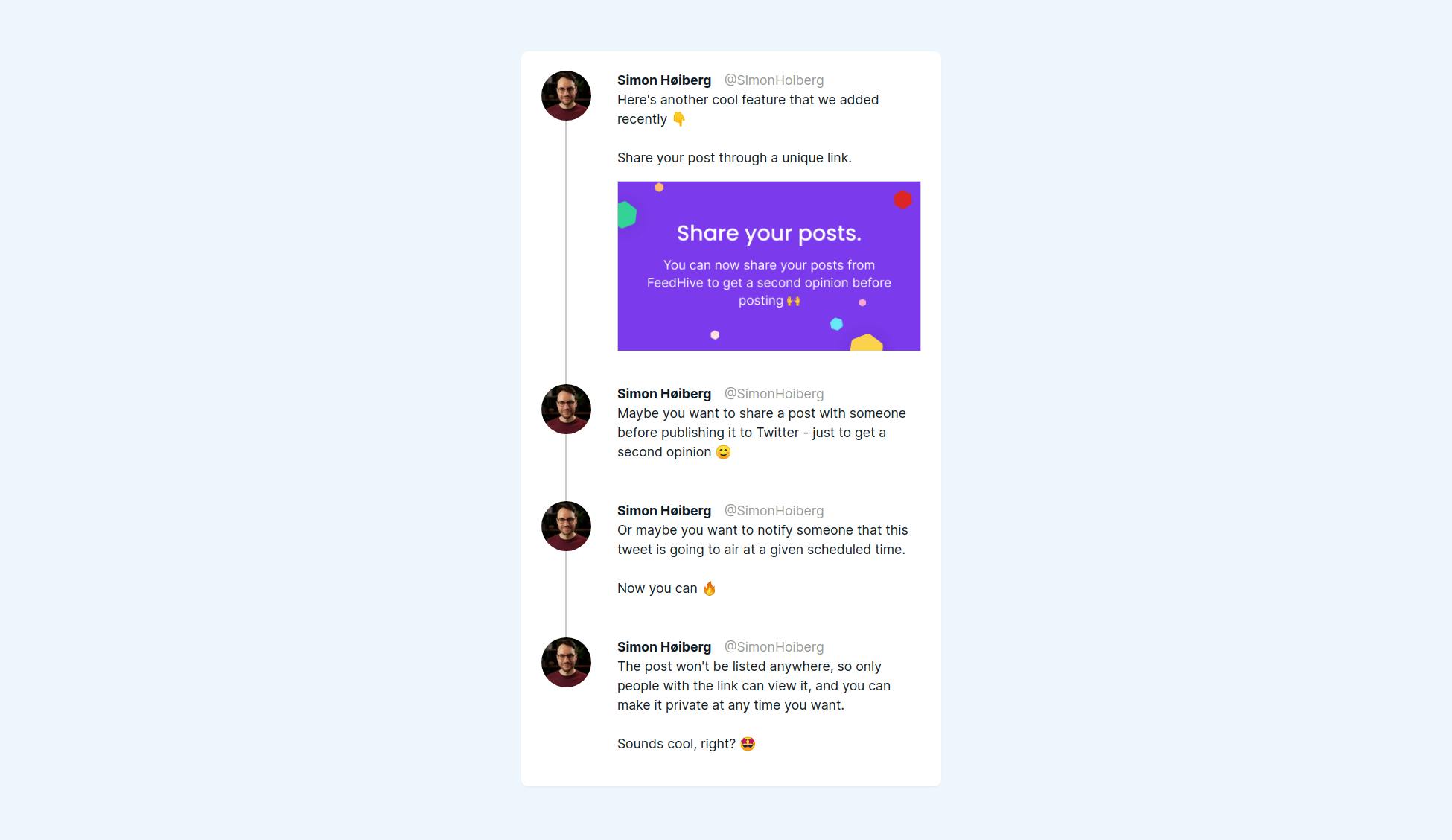 We also included the ability to share a post from a unique link within FeedHive.
Maybe you want to share a post with someone before publishing it to Twitter - just to get a second opinion.
You can do that now, with this new feature.
The post won't be listed anywhere, so only people with the link can view it, and you can make it private at any time you want.
Automatically sync with Twitter
Another cool feature new feature is that FeedHive now automatically sync with Twitter.
So if you post something from Twitter's Web App, or from another scheduler, the tweet will automatically get imported into FeedHive - in this way, you can access it in the "history" tab of the "posts" page.
This allows you to recycle it at a later point, among others.
And that's just the tip of the iceberg
We know that it's a lot of work to beat the algorithm. FeedHive is packed full of features that help you effectively schedule content and grow your social media. As a team of people who thrive on social media ourselves, we're constantly adding features we are certain will help you grow.
We hope that you get to enjoy this new, improved of FeedHive!