Late last year FeedHive launched a successful public beta and has since then onboarded over 1500 users, and undergone major changes and improvements.
FeedHive got a new design, dashboard, analytics, and editor along with a substantial amount of other improvements and changes, and on top of that, we also launched a new homepage for FeedHive.
With Q1 in the rearview mirror, the newly assembled FeedHive team is looking towards the horizon in search of new features, innovations, and ways to grow the community that's slowly evolving around our platform.
Barely have we spent time gazing at the horizon before a sea of features shines before our eyes.
So what's next?
Let me answer my own question below 👌
Multiple social profiles
Having multiple Twitter profiles connected to the same Feedhive account, so you can post content on multiple profiles at the same time, has been a much-requested feature. We are happy to announce that we are going to support multiple social profiles for Twitter soon. The team is hard at work to make life in the content creation marked easier. Stay Tuned 📣
LinkedIn Integration
LinkedIn is an essential platform for your content and audiences. Therefore we are going to bring support for posting on LinkedIn during Q2 of 2021. With the LinkedIn integration, it will be possible to cross-post content on both Twitter and LinkedIn. Write in one place and post in multiple, how about that. The integration will of course work with multiple social profiles so you can connect multiple LinkedIn profiles to a single FeedHive account.
Dark Mode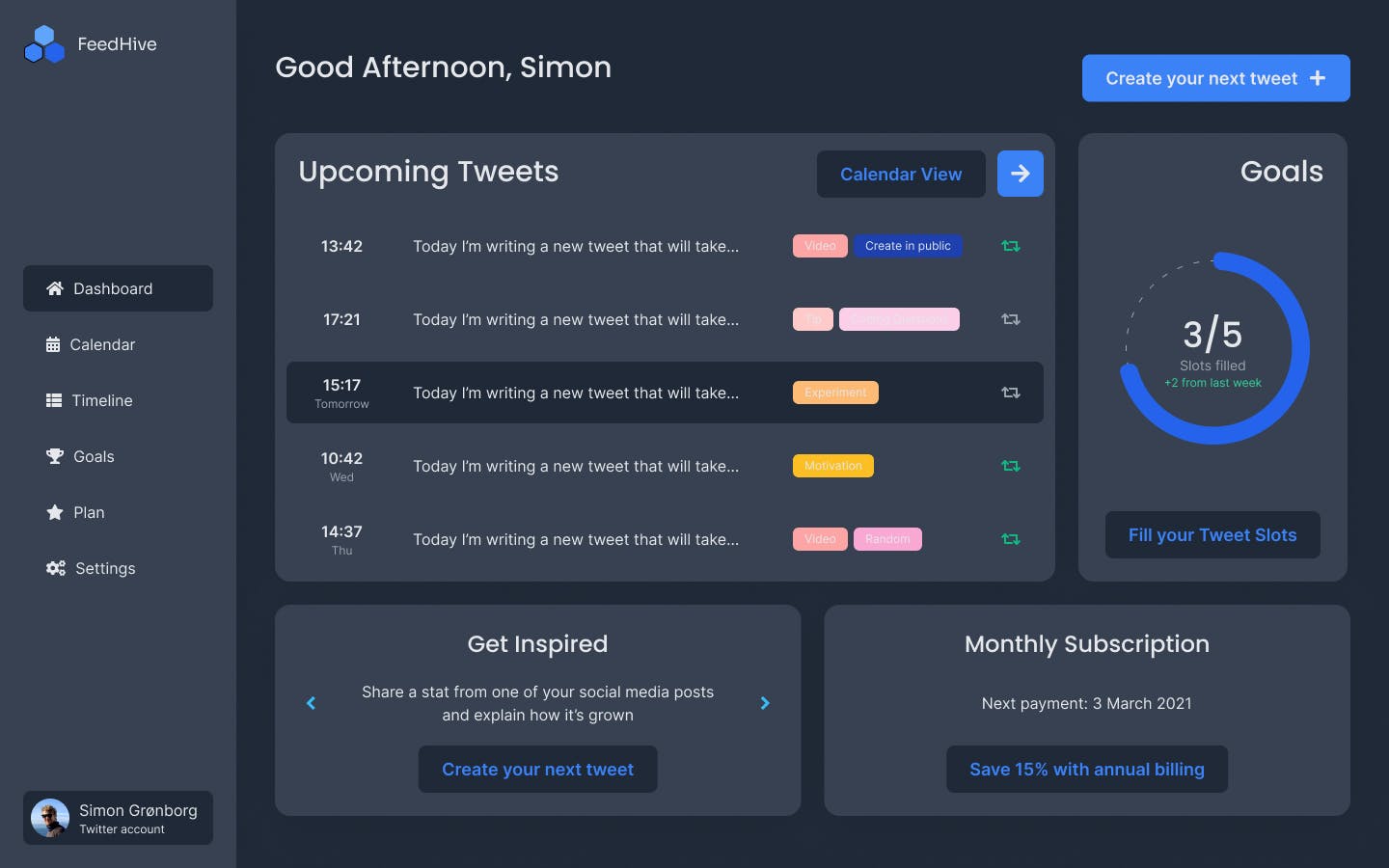 Maybe you have noticed a small switch on the settings page for dark mode. If you have and have been anticipating this slightly darker version of FeedHive, then we have some good news. Dark mode has been in the pipeline for a while. It is still in alpha and something the FeedHive team is going to keep working on further down the road, however, we are getting to a point where we feel confident, that we can release a public beta for all those who like to write during the darker hours of the day.
Back on the road
FeedHive will continue to ship improvements and updates in between the items on the Roadmap. We have a lot more in store, and we are looking forward to sharing!